FISHING LICENSE
To order your license on-line visit:
https://www.ca.wildlifelicense.com/InternetSales/
You can normally print your license on purchase.
Annual Resident: License $54.00 + Ocean Enhancement $6.22 = $60.22
Annual Nonresident: $145.80 + Ocean Enhancement $6.22 = $152.02
1 day Resident or Nonresident: $17.54 includes Ocean Enhancement
2 day Resident or Nonresident: $27.00 includes Ocean Enhancement
10 day Nonresident: $54.00 + Ocean Enhancement $6.22 = $60.22
California Department of Fish & Game requires all residents and non-residents 16 years old and over to have a valid fishing license in your possession when fishing. The State offers annual (calendar year), 1-day, and 2-day short term licenses for residents and non-residents, in addition to a 10 day for non-residents. Also required is the annual Ocean Enhancement Validation, except on the 1 or 2 day short term licenses. If you're going to fish for more than 2 days this year buy the annual license and you're saving money.
Last is that if you will be lobster fishing you must have a valid Spiny Lobster Report Card, to which you log all your lobster catches and send back to the DFG at the end of the season. The season runs October through February, and the card does not have to be purchased when you buy a license. If you're going to be abord a boat which is lobster fishing it's best to have a report card to share in the booty!
Of course, you best resource for buying your license is your local tackle shop. They want to help you catch fish and know better than anyone what you do and don't need. They may even have rental or loaner tackle for you. Davey's locker in Newport Harbor runs charter boats so should have rental tackle (I'm checking with them and others to update). Inexpensive and easy to store tackle will catch most of what is available in So Cal.
STEP ONE : REGISTER FOR A GO ID
Every customer purchasing a California fishing must create a customer record and obtain a Get Outdoors Identification (GO ID) number.
Your GO ID will print on all your licenses and is used to help you track purchases, preference points, and harvest reporting requirements.
To create a customer record, you must first search for an existing profile by completing the Customer Search Criteria. Even if you don't have an existing record.

Once the system recognizes there is no existing record, the Create New Customer Record button will be enabled and should be clicked.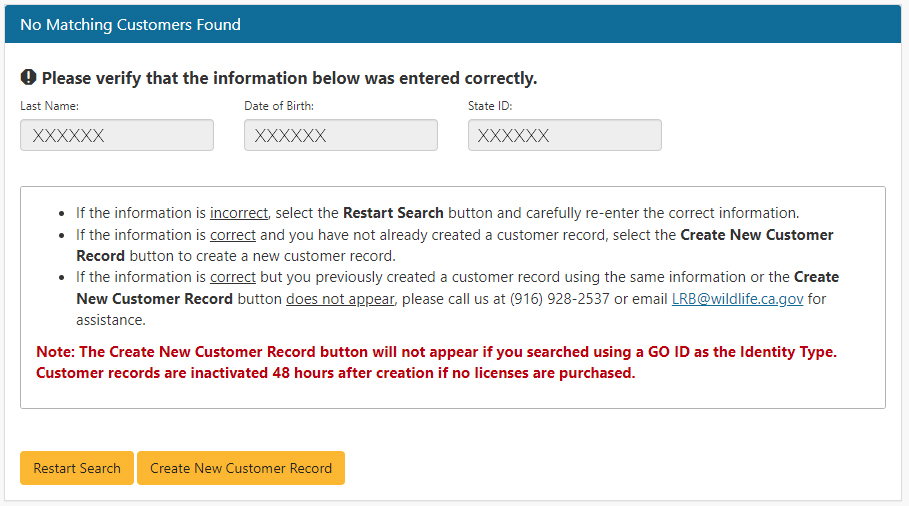 On the next New Customer screen - fill in all relevent information.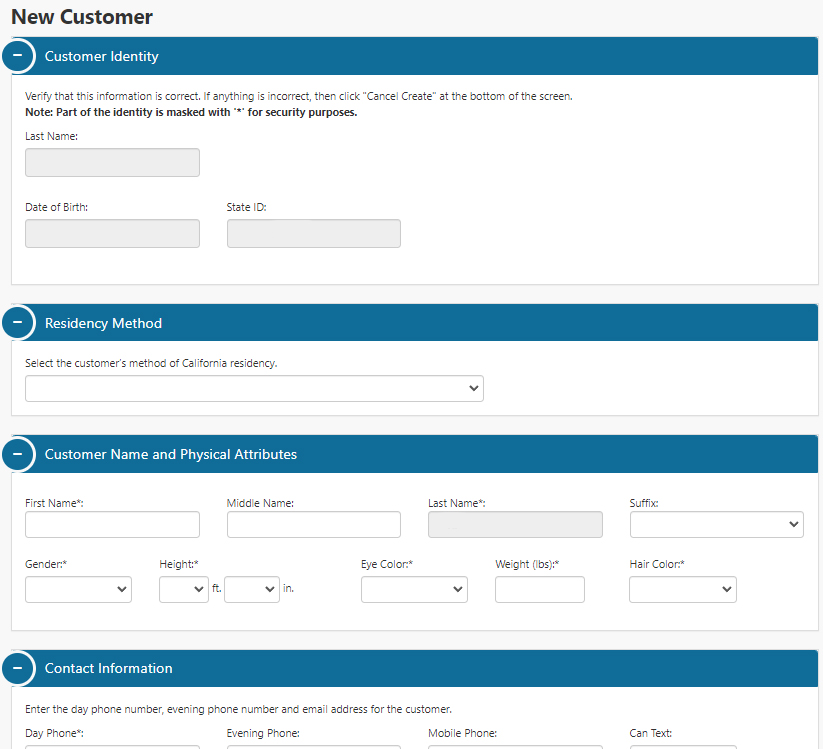 On completion, click the Save button on the bottom of the form.
This will now allow you to purchase a fishing license (STEP TWO : BUY A LICENSE)
STEP TWO : BUY A LICENSE
Once you have Finished Step One, you are able to purchase a license by clicking PURCHASE LICENSE at the top of the page.

Once you click, you can scroll down the page to the MAIN section and the 2022 Sport Fishing License can be added to the cart by clicking the yellow ADD button.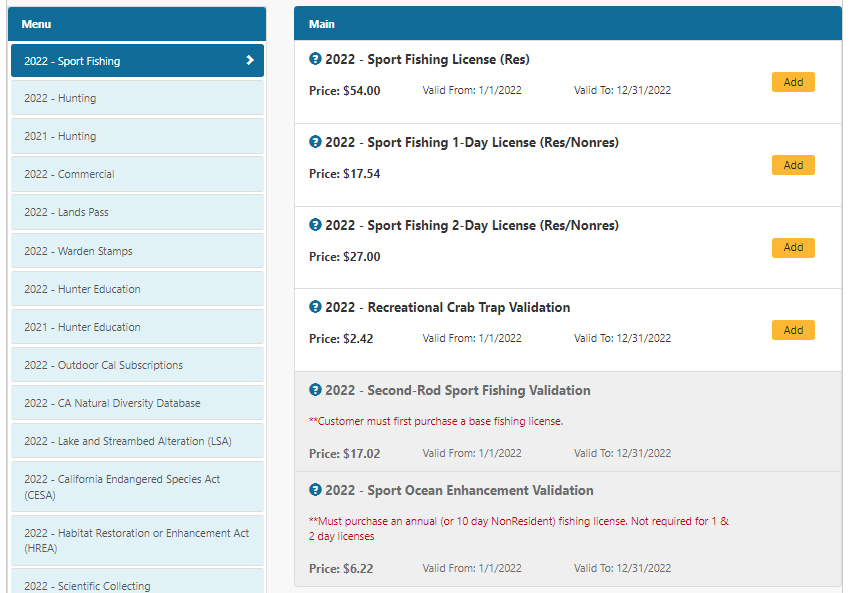 Once added to the cart, you can CHECK OUT and make your payment.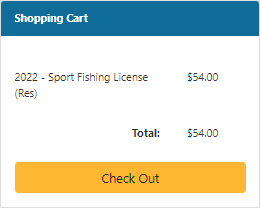 BAIT & LURES
There are two questions every fisherman asks another. Where did you catch the fish and what did you catch it on? And, just like when we hold the fish closer to the camera to make it look bigger, from Herman Melville to Ernest Hemmingway, we all tell fish stories. What will be yours?
When it comes to bait there's only 2 options. Live, which requires a live bait tank designed for the west coast. And dead, be it fresh or frozen. The live bait supply changes seasonally. Anchovies, Sardines, Mackerel, and Squid are the customary baits found at the local bait barges and may be your best choice, tank or not. For those with bait tanks, do you know they frequently have cured, bait that has been in the pen for 3-5 days getting strong and healthy available? If you're going to be running hard or out for days you should consider cured bait.
Fresh dead being the next best, all you need is a 5 gallon bucket and a half scoop of bait from the barge (dumped in it (no water) and cover with a rag or towel. Fishing rock or flat fish, pin a bait on the end of your line and drop it down with some weight. You're catching fish. Fishing the kelp or rocks for bass? Chop up some fresh dead to chum the water bringing out the fist and throw them a whole on on the hook.
The difference between fin bait and squid is simple. We call squid "candy bars", because the fish love them! Live or dead, it just works.
Then we have strip bait. Which is taking any of the above baits and cutting them into strips to pt on a hook. Simulating scraps of fish when have been eaten by others, it gets bit well when pinned on the hook multiple passes so they can't easily pull it off.
Want to have the fish feeding, and biting, off the back of your boat at the mooring? Pick up a 1 gallon frozen chum bucket and hang it over the side. Not only can it be a great show with the bait fish close You'll see the predators out in the shadows swooping in. Then just drop a Sabiki jig over the side and you're catching! We like to break up the frozen chum into chunks in small mesh bags we hang whenever we're fishing or anchored to turn on the show in the lights!
Lures
Want to skip the mess and hassles of bait? If so lures are for you.